Gratitude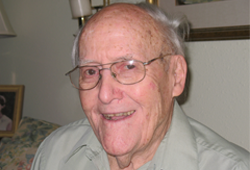 George Hood is one of the most beloved members of the Stetson Family. His career at the university spanned almost 40 years, and he remains deeply grateful for his time here.

A Kansas native and youngest of three children, George earned his undergraduate degree in his home state before joining the U.S. Navy during World War II. He served as navigation officer on a new destroyer and is thankful that he survived the sinking of that ship by kamikazes. After the war, George moved to Chicago where he earned an MBA and then a Ph.D. in Education from the University of Chicago. The year was 1950 and as the soon-to-be Dr. Hood was completing his thesis, he learned that the President of a small southern college was visiting Chicago in search of a new Director of Guidance.

Persuaded by his major professor to take a break from his studies for a few hours, George travelled to downtown Chicago. There he met President J. Ollie Edmunds who convinced him to accept the position at Stetson University. This was the beginning of a deep friendship between the two men and their families that would last for decades.

In Dr. Hood's position as Director of Guidance, he coordinated faculty advising and administered placement tests to students. He was soon promoted to Dean of Men and enjoyed working side-by-side with Etter Turner who was Dean of Women. After a few years, he was promoted to Dean of Students and was later selected to establish the Counseling Center, located in the "Brick Palace" (now home of University Marketing), and to join the faculty of Counselor Education.

In his early years at Stetson, George met and married Mary Turner, the love of his life. Mary spent more than 25 years as Dr. Edmund's administrative assistant and continued her involvement with the university long after her retirement. She and George enjoyed 50 years together before her death just three months after their anniversary celebration in 2010.

Among the most rewarding parts of his career, George includes the biweekly faculty luncheons sponsored by the Counseling Center, the Inter-Personal Relations training (IPR) held for students during Winter Term and the dozens and dozens of students who "made my life". He shared, "What a privilege God gave me to be there!"

After retiring from Stetson in 1987, George helped found and directed the Episcopal Counseling Center at St. Barnabas Episcopal Church. He retired for a second time in 2007.

Still active with Stetson, he serves on the selection committee for the prestigious J. Ollie Edmunds Distinguished Scholarship with Dr. J. Ollie Edmunds, Jr., Jane Edmunds Novak, a member of the Stetson University Board of Trustees, and others. He is also a member of the Counselor Education Advisory Board.

In addition, George supports the University with his annual Presidential Counsellor gifts and has also included a bequest provision in his estate for Stetson. As he expressed it, "God has blessed me with so much, it's a pleasure to give back."
© 2020 Crescendo Interactive, Inc. PRIVACY STATEMENT