Planning Result in Major Gift for Scholarships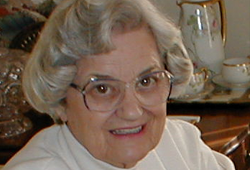 Lucille Gilstrap West, MA '59, was a calculus teacher with a formula for life that called for careful planning, frugal spending and saving for the people, values and institutions important to her.

"She had a vision. She wanted to use her money to reflect her values and to help instill those values in others and, primarily, it was through education," said Shane Lovingood, her longtime attorney, professional adviser and friend.

Mrs. West, who passed away in October 2010 at age 82, had attended graduate school in Teacher Education at Stetson in the 1950s. She was a mathematics teacher at Mainland High School in Daytona Beach, and also taught in the Dalton (Ga.) school system — earning many awards including Teacher of the Year for her innovative methods of teaching calculus.

Building upon that success in the classroom, along with an inheritance from her parents and careful planning, Mrs. West and her husband were able to build their wealth. After her husband, Jessie West, died about 20 years ago, Mrs. West established a trust so that she and her family and assets would be protected if she ever took ill. By then she was retired in her home state of Georgia.

She notified her two alma maters — Berry College in Rome, Ga., and Stetson — that they would share much of her estate after her death. By including Stetson in her estate plan, Mrs. West became a member of the prestigious Stetson Society.

"She grew to love this school (while attending Stetson) and knew what the value of an education is," Lovingood said. "She wanted to make sure the students here were helped."

Earlier this year, following Mrs. West's death, Stetson received $140,000 which established the permanent Lucille Gilstrap West Scholarship which will benefit students for many generations to come. Another $125,000 to $150,000 for scholarships will be provided through the estate in the future, Lovingood said.

The scholarships will be awarded beginning in the fall 2012 semester, said Kate Pearce, director of Annual Giving and Gift Planning at Stetson.

"Mrs. West's gift will enable students to attend Stetson who might not otherwise be able to afford a private, high-quality education," Pearce said. "Through her generosity, future students will be able to make a difference in their communities and world, just as Mrs. West did for the students in her math classes."

Stetson alumni, parents and friends are invited to consider including Stetson in their estate plans. There are currently 544 members of the Stetson Society.

"Individuals who inform the university that they have included Stetson in their estate plans are members of the prestigious Stetson Society, which recognizes people who have chosen to leave a legacy to guide future generations of deserving students," Pearce said.

Ways to become a member of the Stetson Society include establishing a permanent, endowment fund during your lifetime or naming the university as a beneficiary of a will, living trust, retirement plan or life insurance policy. In addition, individuals who establish charitable trusts or charitable gift annuities that benefit the university also qualify for membership. The total amount of anticipated estate gifts from Stetson Society members forms the Planned Giving Inventory, or PGI. As of this fall, Stetson's PGI is just over $99 million. For information on including Stetson in your estate plan, contact the Office of Gift Planning at (386) 822-7461 or plannedgiving@stetson.edu.
© 2020 Crescendo Interactive, Inc. PRIVACY STATEMENT